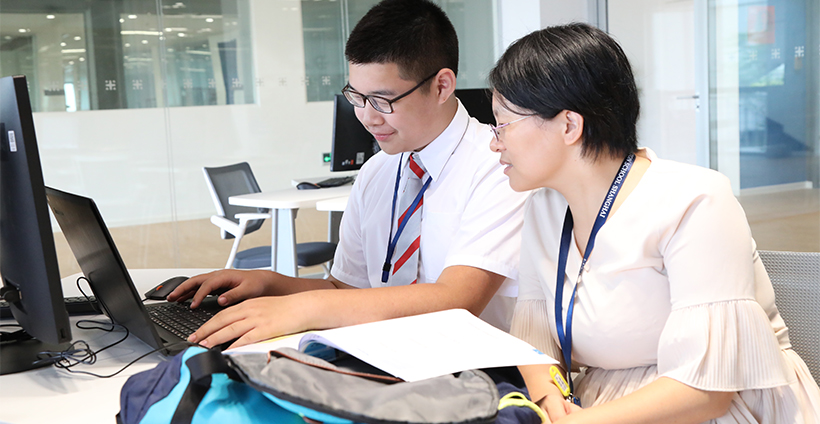 7:45am - 9:00am
A new day starts with wake-up bells at 7:45am. All boarders get up and prepare themselves for the day. Breakfast is served from 8:15am in the school dining hall, and consists of a great choice of food from the breakfast buffet. Boarders all wear school uniform and after roll call are ready to begin a busy day.
9:00am - 4:40pm
All boarders start classes at 9:00am. The attend four lessons in the morning session. Students have a lunch break at mid-day and the meal is be provided from 12:10pm in the dining hall. Seating at lunch is flexible and students are free to chat with peers or their tutors. The afternoon session starts from 1:30pm with four more lessons.
After all eight lessons are completed, student attend a co-curricular programme during this period. We provide a variety of activities for selection from a wide range of music, art and sports. We also encourage students to attend clubs in line with their hobbies and interests.
6:00pm - 7:15pm
Supper is served from 6:00pm. After a long day, students sit in the dining hall with their friends and enjoy a meal together. The meal is a big selection of hot and cold dishes, including many healthy eating options, plus fruit and desserts.
7:15pm - 8:50pm
Prep time starts from 7:15pm. Phones and any other entertainment or electronic devices are not allowed during this time. Students only do work during prep study time. House tutors supervise and may provide work support in this session.
8:50pm - 10:00pm
A busy day is now finished. All boarders are free to arrange their own time. They can chat with friends and make phone calls to families after a long day of study.
10:00pm - 10:30pm
Students can take a shower, get ready for bed and the prepare for the following day. All lights will be turned off in the corridors at 10:30pm. Corridors are monitored in the evening to make sure that all students are in their rooms.